Copyright
Falling Walls Foundation
The first Falling Walls Lab in Heidelberg, where more than 70 participants experienced the innovative pitches from various areas such as medicine, business, physics, law, biochemistry and computer science, took place on June 23, 2020 on Zoom!
Moderated by Raoul Haschke (Heidelberg University), our ten labsters took up the difficult challenge of presenting their ideas online in just 3 minutes. They fought for the chance to take part in the global finals of the Falling Walls Lab. Many thanks to all Labster: Sven Reislöhner (Heidelberg University), Jan Rymkuß (DHBW), Helge Eggers (KIT), Rodrigo A. Gama Brambila (Heidelberg University), Osama Hassan Hamadelseed Abdualrahman (), Djeda Belharazem (Mannheim University Medicine), Yvonne Saara Gladbach (dkfz), Tondjom William (Yaounde 2 University), Aaron Rothmann (open decision) and Fabian Höft (York University)! You all did a wonderful job!
For the jury made up of six experts from different areas, namely Mathias Weidemüller (Heidelberg University), Daniela Beyer (Fraunhofer ISI), Simone Burel (LUB GmbH), Bernd Welz (Klimastiftung für Bürger), Rainer Wessel (dkfz), Thomas Krügel (HEAG Holding AG) this was obviously a very difficult decision! After an intensive discussion, the winners were announced:
1st winner of the Falling Walls Lab Heidelberg
and thus representative of Heidelberg at this year's Falling Walls Lab Finale is DJEDA BELHARAZEM with her pitch about BREAKING THE WALL OF CANCER DIAGNOSTICS FOR PRECISE MEDICINE.
Congratulations Djeda!
2nd winner
is AARON ROTHMANN  with his pitch about BREAKING THE WALL OF UNAFFORDABLE DIGITALZATON and
3rd winner
is RODRIGO A. GAMA BRAMBILA with his pitch about BREAKING THE WALL OF UNSELECTIVE CRIPSR / Cas9 USING PROTACs.
Congratulations to Aaron and Rodrigo!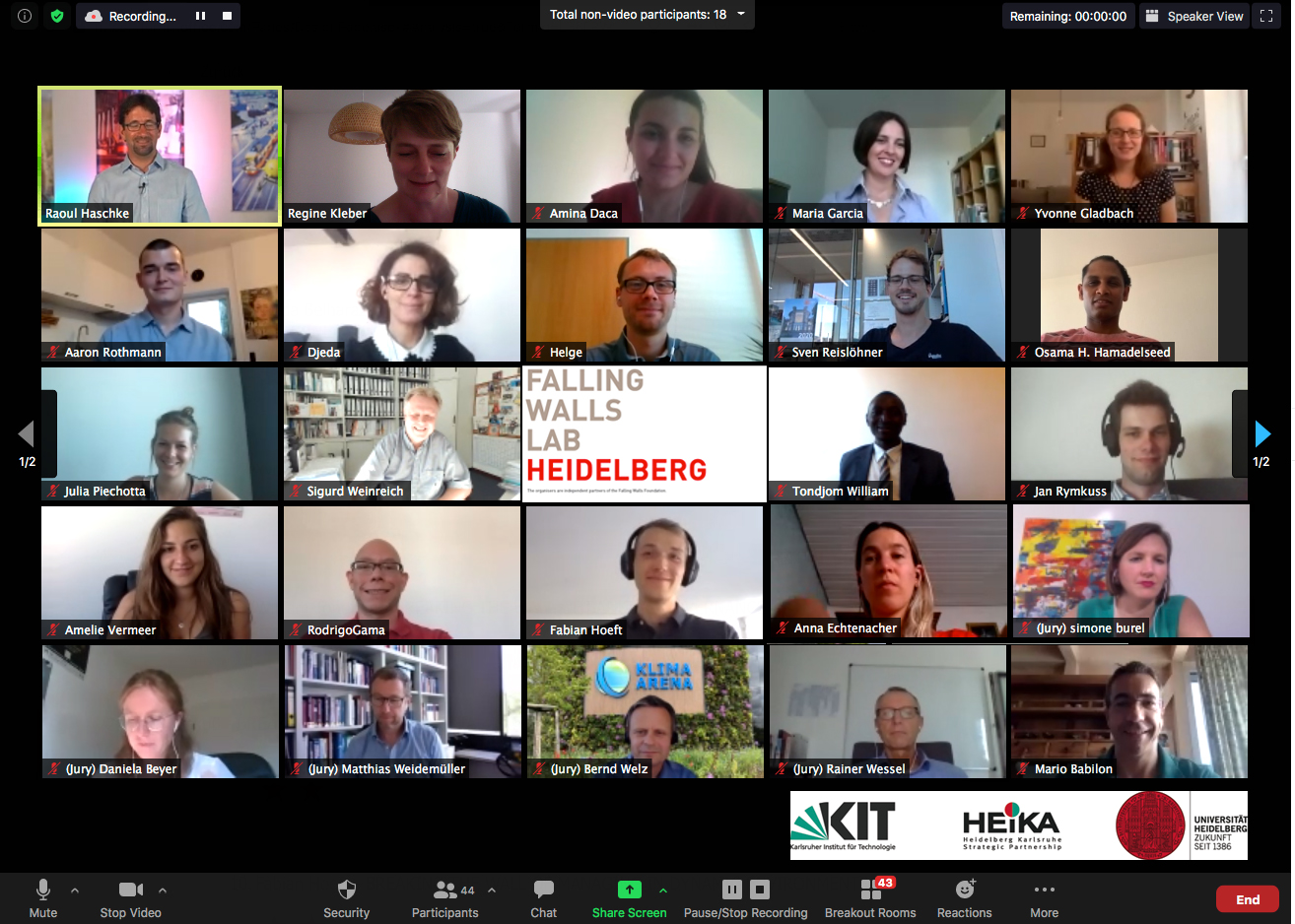 Labsters, jury & host(s) of Falling Walls Lab Heidelberg 2020
We would also like to thank the jury members very much for their expertise and enthusiasm for innovation and science. We greatly appreciate that you dedicated your precious time to Falling Walls Lab Heidelberg and inspired us all!
Special thanks go to Naveed Syed (Falling Walls Foundation) for his inspiring insights into Falling Walls and their goal to make science accessible to society. Thank you very much Naveed!
Last but not least we are very grateful to the heiINNOVATION-Team (Heidelberg University) for their support in organizing the event!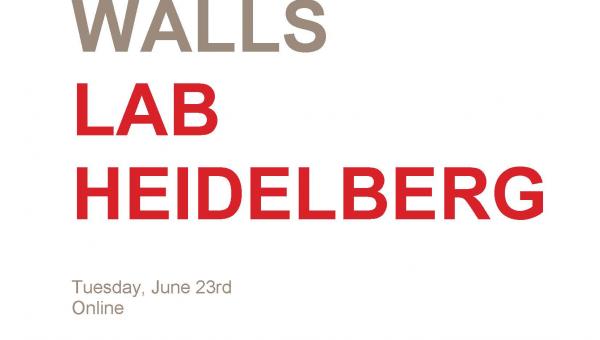 A stage, a great idea and three minutes to present it. This is the FALLING WALLS LAB HEIDELBERG.
The international forum offers emerging talents, innovators and creative minds the opportunity to present their research, ideas or business models.
In the end, a jury from science and business decides which Labster will take part in the final Falling Walls Lab in Berlin on November 8th. There the best Labsters from 100+ events from all over the world compete against each other.
At the international conference in Berlin, 100 leading global researchers will present scientific and social solutions to global challenges such as climate change, energy generation, health, security, fair and sustainable business. The goal is to tear down walls and overcome boundaries: in the mind, in thinking and in acting. The Heidelberg University, together with the Karlsruhe Institute of Technology (KIT), is organizing the Falling Walls Lab for southwestern Germany. Falling Walls Lab Heidelberg will be an online event hosted by Heidelberg University.
TIMELINE
4.30 pm                       Intro
4.35 pm                       Welcome & Jury Introduction
5.00 pm                       Pitches (scholar presentations 1-10)            
6.00 pm                       Jury break
                                    Interview – Q & A (Naveed Syed, Falling Walls Foundation)
                                    Audience Award (Voting)
6.30 pm                       Award ceremony
                                    Audience Award
                                    Jury Award
6.45 pm                       Group picture & farewell
The Falling Walls Labs...
... connect aspiring innovators
... discover and develop talents
... support interdisciplinary dialogue
... boost international cooperation
... develop new ways of scientific communication
... build new and strong networks
Join us on Tuesday, 23 June (4.30 pm) -
Registration is closed!
But you can still join - just write to us at info@heika-research.de!
Take a look into the programme booklet...
FWL Heidelberg - Programme Booklet