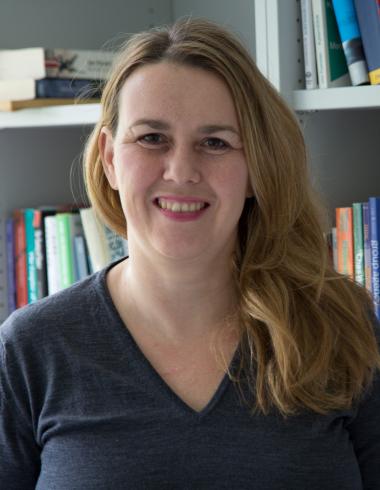 Lehrstuhlinhaberin: Ethik in der Informationstechnologie
Fachbereich Informatik
Universität Hamburg
Thesen
KI in den Dienst des Menschen zu stellen ist gleichermaßen eine erkenntnistheoretische, ethische und politische Aufgabe.
So müssen wir z.B. 1) nachvollziehen können wie und wie gut KI funktioniert, 2) untersuchen welche Auswirkungen sie auf unterschiedliche Personen und Gruppen und verschiedenen Kontexten haben kann und 3) eruieren und aushandeln, welche Werte, Prinzipien oder Normen Gestaltung und Einsatz von KI leiten sollen. 
CV
Judith Simon ist Professorin für Ethik in der Informationstechnologie an der Universität Hamburg und hat zuvor in Berlin, Wien, Ljubljana, Stanford, Paris, Trento, Barcelona, Karlsruhe und Kopenhagen zu Themen aus Philosophie, Wissenschaftstheorie und Technikfolgenabschätzung geforscht. Sie beschäftigt sich mit der Verschränkung ethischer, erkenntnistheoretischer und politischer Fragen im Kontext von Big Data, Künstlicher Intelligenz und Digitalisierung im Allgemeinen.
Judith Simon ist Mitglied u.a. folgender Gremien:
Deutscher Ethikrat (seit 2018)

Datenethikkommission der Bundesregierung (2018-2019)

Wissenschaftliche Kommission "Digitalisierte Gesellschaft" der Leopoldina (seit 2019)

Arbeitsgruppe "Digitalisierung & Demokratie" der Leopoldina (seit 2018)

Gemeinsamer Ausschusses der Leopoldina und der Deutschen Forschungsgemeinschaft zum Umgang mit sicherheitsrelevanter Forschung (seit 2018)

Expertenkommission "Wissenschaft im digitalen Zeitalter" der Deutschen Forschungsgemeinschaft

Arbeitsgruppe "IT-Sicherheit, Privacy, Recht und Ethik" der Plattform Lernende Systeme (seit 2018) 
Sie ist in zahlreichen wissenschaftlichen und forschungspolitischen Beiräten tätig, gewähltes Vorstandsmitglied der International Society for Ethics and Information Technology (INSEIT) und der International Association for Computing and Philosophy (IACAP) und u.a. Mitherausgeberin der Zeitschrift »Philosophy & Technology. 
Im Juni 2020 erscheint ihr Routledge Handbook of Trust and Philosophy.
Weitere Informationen zu ihrem Werdegang und aktuellen Projekten und Veröffentlichungen finden Sie hier.