Copyright
fancycrave1 by Pixabay
AIM
The Executive Board of the Karlsruhe Institute of Technology (KIT) and the Rectorate of Heidelberg University (Uni HD) plan to fund joint research networks to foster the development of new priority areas within the framework of their strategic platform HEiKA (Heidelberg Karlsruhe Strategic Partnership). By exploiting the synergy potential of the complementary research focuses of KIT and Uni HD, new collaborations in cutting-edge research between the partner universities are to be initiated and promoted. In particular, it is expected that joint research networks will promote the initiation of new joint INITIATIVES for CLUSTERS of EXCELLENCE (EXC-I). KIT and Heidelberg University will support these initiatives by providing (1) strategic funds for network activities (e.g. guest speakers, workshops, meetings, administrative staff) and (2) research funding for collaborative studies to establish joint preparatory work.
ELIGIBILITY
Teams of Principal Investigators (PIs) of KIT and Heidelberg University.
CALL PROCESS AND FINANCING
KICK-START (February - May 2021)
You may ask for further information and coordinating support informally via the HEiKA office by email: info@heika-research.de.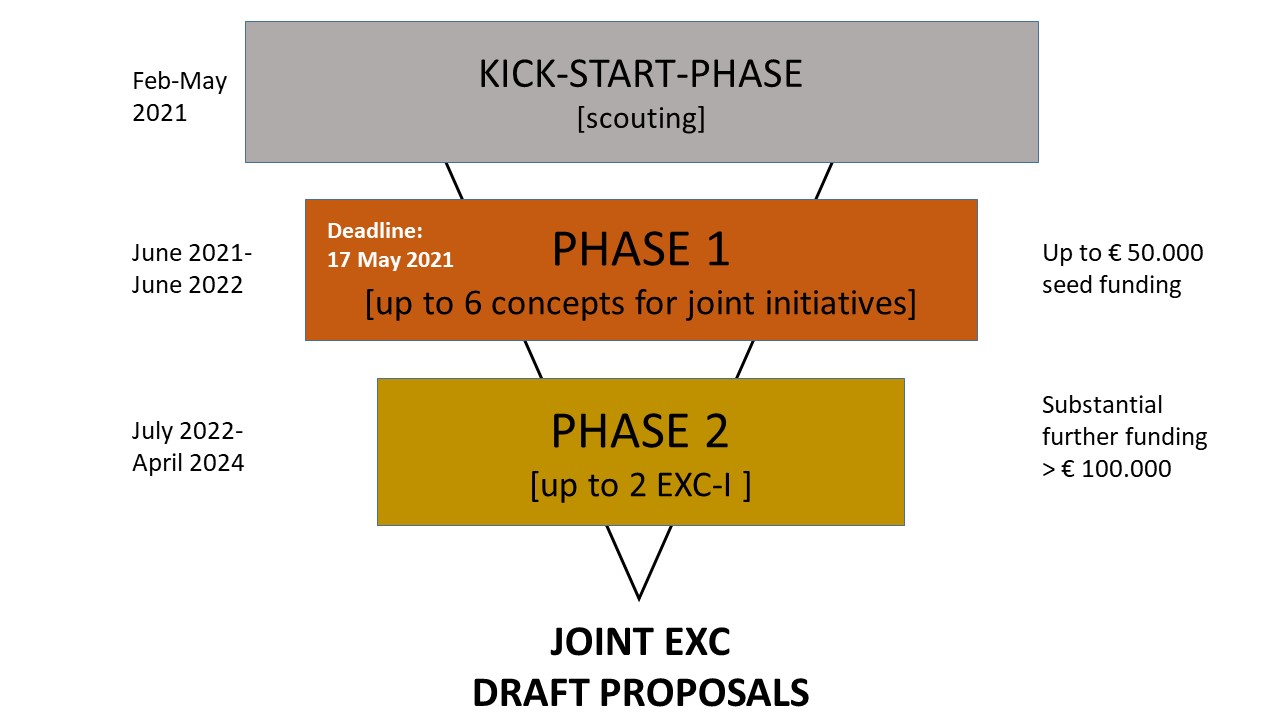 PHASE 1:
May 17, 2021: SUBMISSION DEADLINE for proposals to establish a joint initiative for a Cluster of Excellence (see proposal guidelines).
June 10, 2021: SELECTION of the most promising (up to 6) initiatives by the HEiKA Strategic Board for funding in phase 1.
June 2021 – June 2022: PHASE 1 FUNDING with up to EUR 50.000 over the period of one year, to further develop the proposed concept for the joint initiatives for Clusters of Excellence. Eligible for funding are: Scientific and administrative staff, scientific instrumentation, consumables, travel cost, colloquia, guest speakers/scientists.
PROPOSAL GUIDELINES (PHASE 1)
Proposals are limited to maximum 5 pages (plus annex) and have to be jointly submitted by PIs of KIT and Uni HD. The joint initiative should consist of at least 5 PIs/research groups, but can also be significantly larger. Primary applicants, their affiliations and short CVs need to be listed in the annex. Additional PIs/groups may be affiliated during the funding period.
The proposal should highlight interdisciplinary aspects and synergies aimed at. International benchmarks of the aspired EXC-I should also be emphasized as the critical mass of excellent scientific collaborators you are aiming for.
Kindly adhere to the following proposal structure:
1. Executive Summary
2. Status Quo & Aims
3. Inter- /Transdisciplinary Aspects
4. Potential for Transfer and Innovation
5. Promotion of Young Scientists
6. Outlook and Sustainability Aspects
DEADLINE & TIMELINE PHASE 1
Deadline for submission of proposals is May 17, 2021. Proposals should be sent in as a DOCX- or PDF- document to: info@heika-research.de. Proposals submitted after the deadline cannot be accepted.
REVIEW AND QUALITY CONTROL
Phase 1: The HEiKA Strategic Board will select proposed EXC-I for funding in Phase 1, during a session on June 10, 2021. The Board can involve additional experts for advice and may invite you to present and discuss your proposal during the session.
Next Steps:
PHASE 2:
May/June 2022: Evaluation and Selection of the most promising concepts (up to 2) for Excellence Cluster initiatives from phase 1.
July 2022 – April 2024: PHASE 2 FUNDING by substantial means for intensive preparation of a joint cluster of excellence draft proposal. The aim is a joint draft proposal for the Cluster of Excellence competition.
CONTACT
Please contact the HEiKA office via email in case of questions: info@heika-research.de
KIT & Uni HD call for proposals: Joint EXC-Initiatives